Entertaining and Thematic
A place for your ideal choice!
The final point of the tour of the Nestville Park exposition is a visit to the company shop called Exposhop. Here you can purchase products from Nestville Distillery, chocolate specialties made directly at Nestville Chocolate as well as commemorative souvenirs. In addition, you will briefly familiarize yourself with historical documents and maps exhibited in the shop interior. They document the discovery of the oldest preserved distillery in Slovakia in 1756 and the history of the origin of Northern Spiš.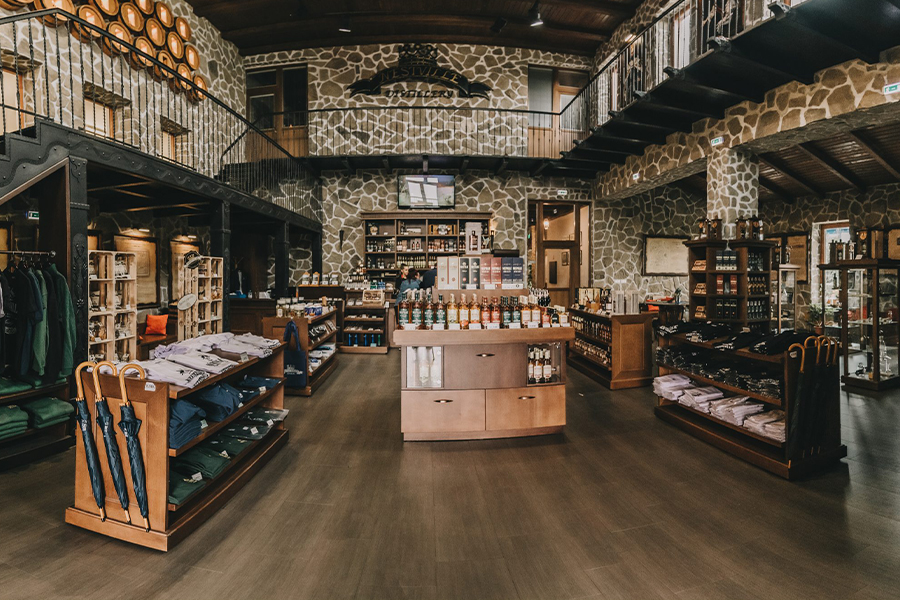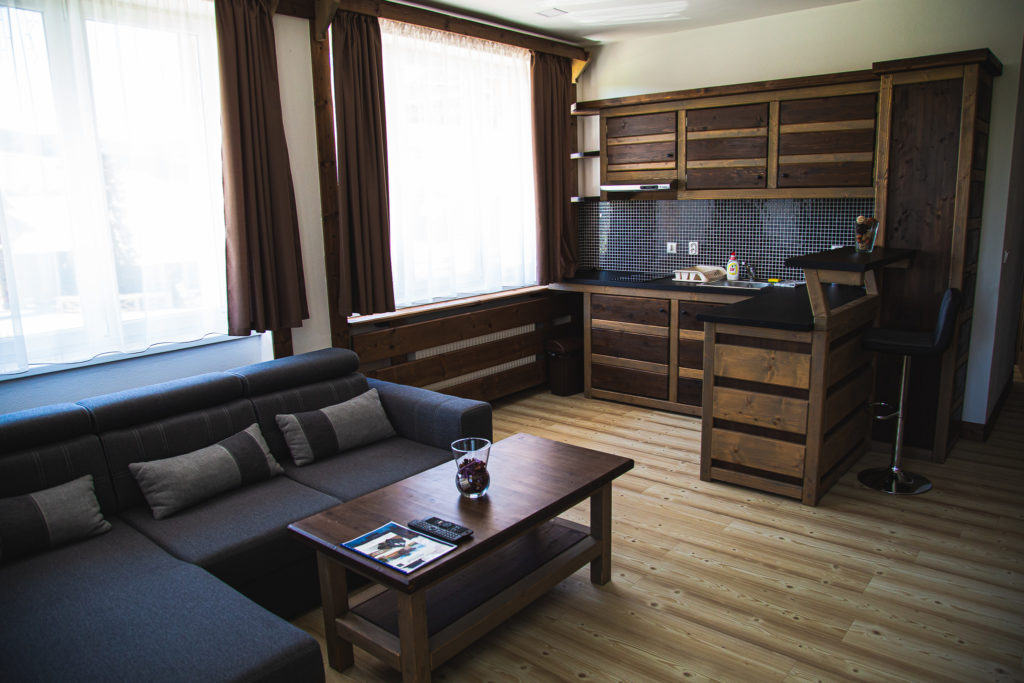 Gain new energy, relax & experience true rural atmosphere in the comfortably furnished Nestville Apartments which are located near our company store "Nestville Market" in Hniezdne (village). The apartments offer 16 beds in total with the possibility of an extra bed and at the same time terrific views of countryside, horses and Nestville Park. Right of the bat they will impress you by unique rustic style with hand-crafted wood and stone & will satisfy even the most demanding guests. As a bonus we offer 10 % discount on entry to the Nestville Distillery exposition. Come to unwind in our outstanding environment which Nestville Apartments offer!
Visit our chocolate kingdom "Nestville Chocolate" which is the only chocolate factory in the region offering delicious quality chocolate and representing history, the process itself and production of different chocolate specialties. Here, you can relax with a cup of hot chocolate or great coffee and taste Belgian pralines or sweet homemade desserts while watching the process of making chocolate products through the window. Original liqueurs are also available for adults.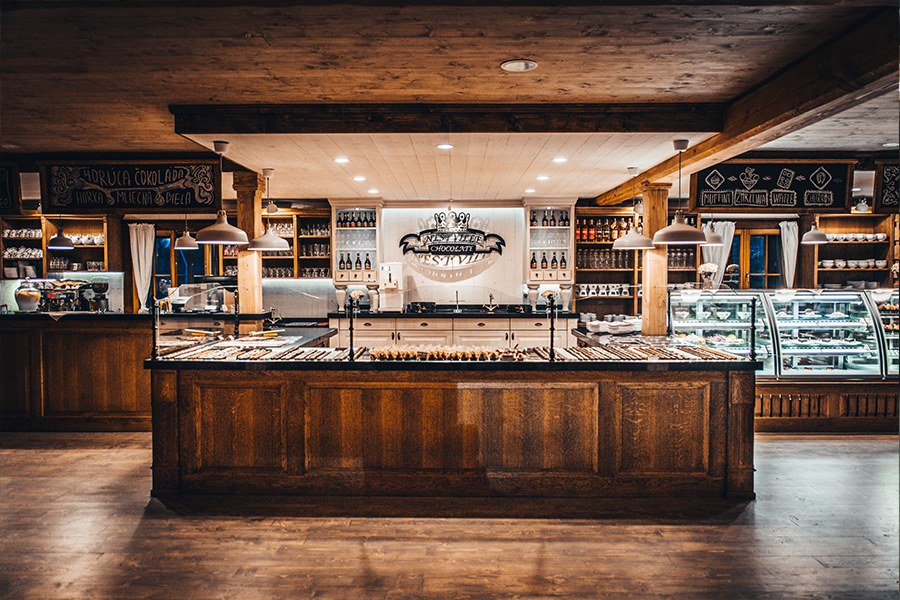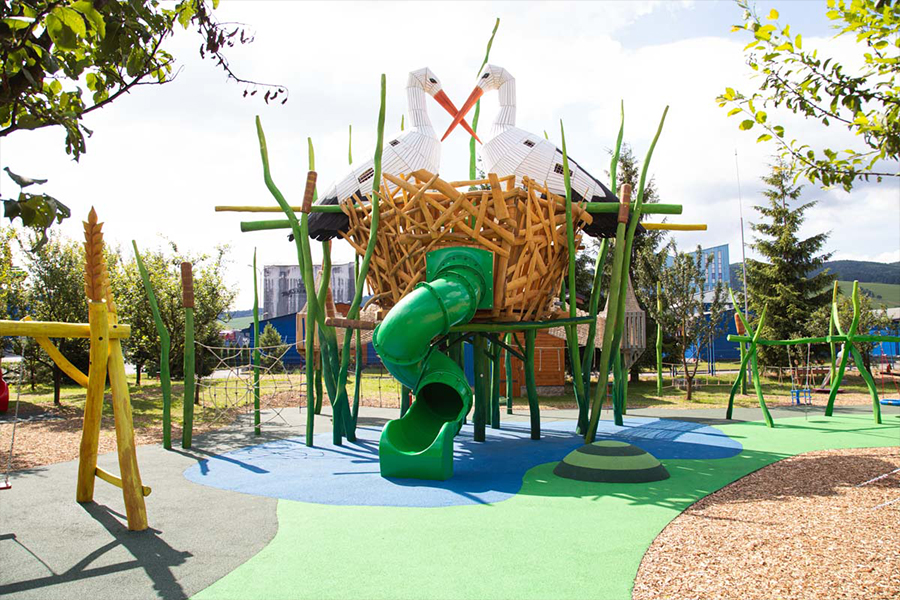 Experience endless fun and adventure with your kids in the outdoor playground at the chocolate kingdom Nestville Chocolate! Surrounded by a plum orchard, the playground has suspended and spring swings, climbing frames, a rope pyramid, slides and a wooden house with a helter-skelter. An attractive landmark is the stork's nest with a helter-skelter slide and balance equipment. All the playground's attractions provide not only safe entertainment but harmonious and versatile development for your children. See for yourself and make them smile from ear from ear with a visit! While they are having fun, you can relax and enjoy your favourite Belgian chocolate or home-made sweet dessert.
Visit our craft brewery "Nestville Taberna" located in the area of Nestville Park which continues a long-standing tradition in brewing beer in Hniezdne (village). In brewery with unique atmosphere, you will learn about history and production of beer & taste unfiltered, unpasteurized honest beer brewerd from the best quality ingredients – malt, local water, hops and brewer's yeast. Good beer, unquestionably, goes hand in hand with a tasty meal forming a harmonious bond that will grant you an unforgettable culinary experience all prepared by our chefs.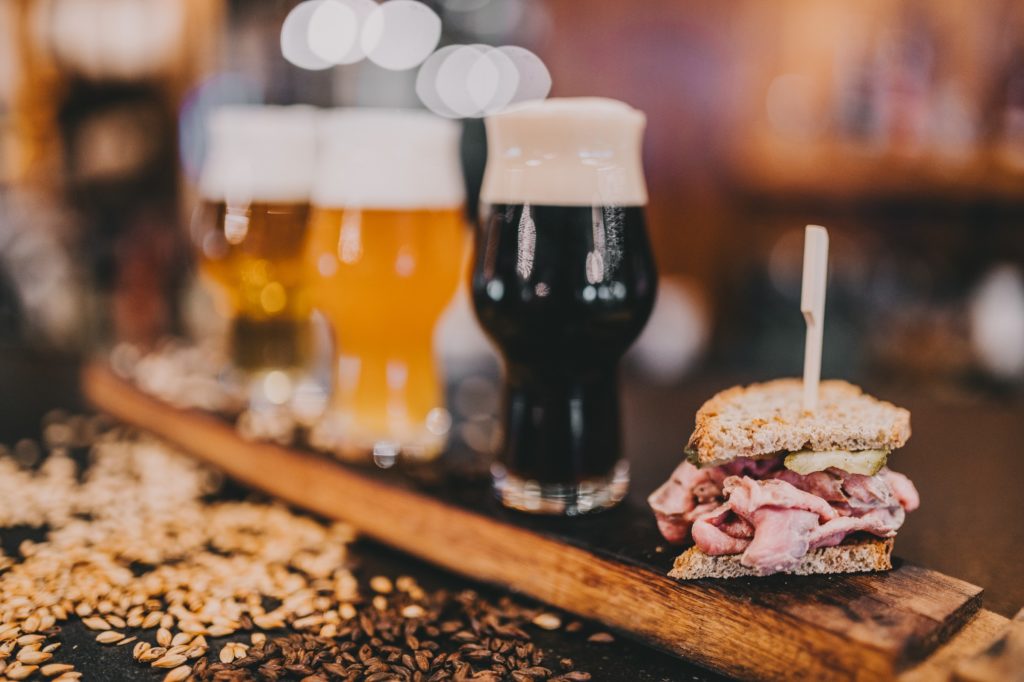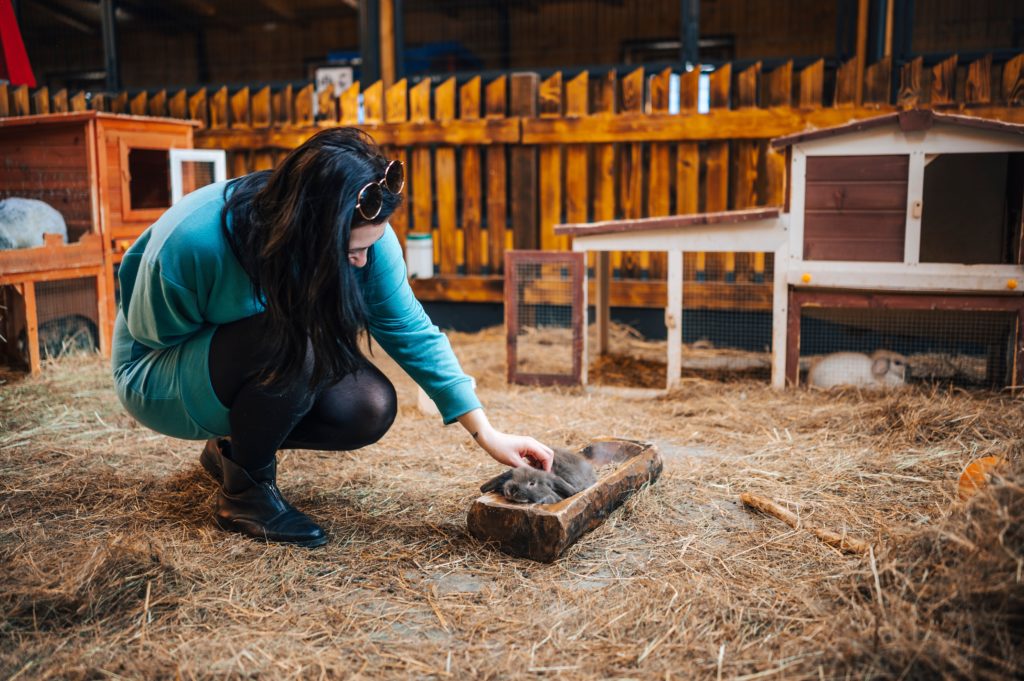 Farm and horse riding area
Enjoy your day at our Nestville Farm where you can experience everyday life of animals up-close. Besides well-know animals you can find here also rare ones of different sizes and shapes that will put smiles on the faces of not only the little ones. Nestville Horses riding area is another part of Nestville Farm where you can find two modern stables with capacity of 10 and 14 boxes, round pens, sand riding arena with grandstands and spacious paddocks. The stables are specialized in Friesian horses breeding. At the same time you can take a break and let your kids enjoy themselves on climbing frames and electric cars for children.
Shop with traditional products
Come and buy traditional Slovak meat and dairy products during your visit of Nestville Park in the Nestville Market, located just opposite the main entrance to Nestville Farm (see map no. 17). Under the brand name Bača Paľo, it offers a wide selection of quality and fresh products from the domestic farm, from beef and pork, slaughtering specialties, sausages to dairy and cow and sheep milk products. Company 1.DAY is also represented in the store, whose range includes mainly alcoholic and non-alcoholic beverages, as well as quality confectionery or tobacco products.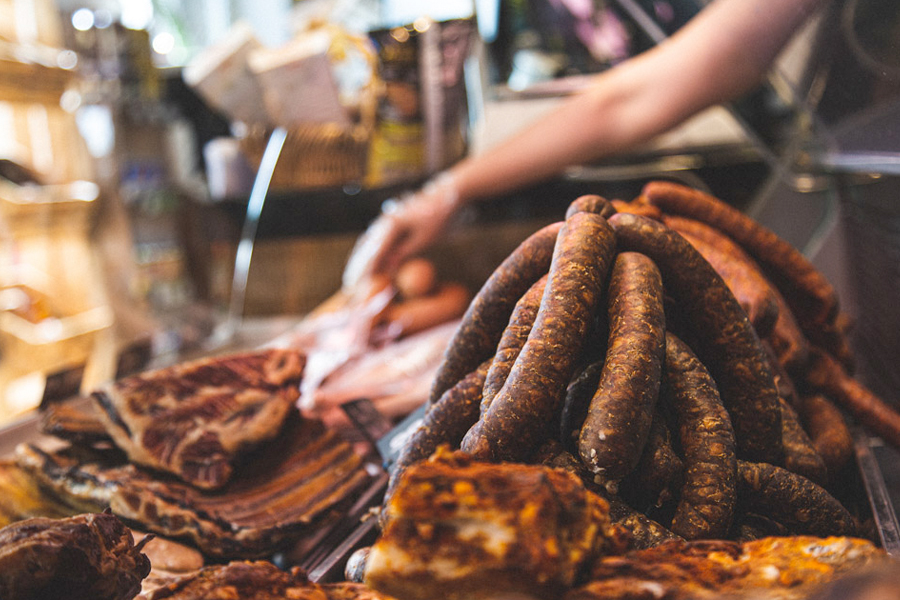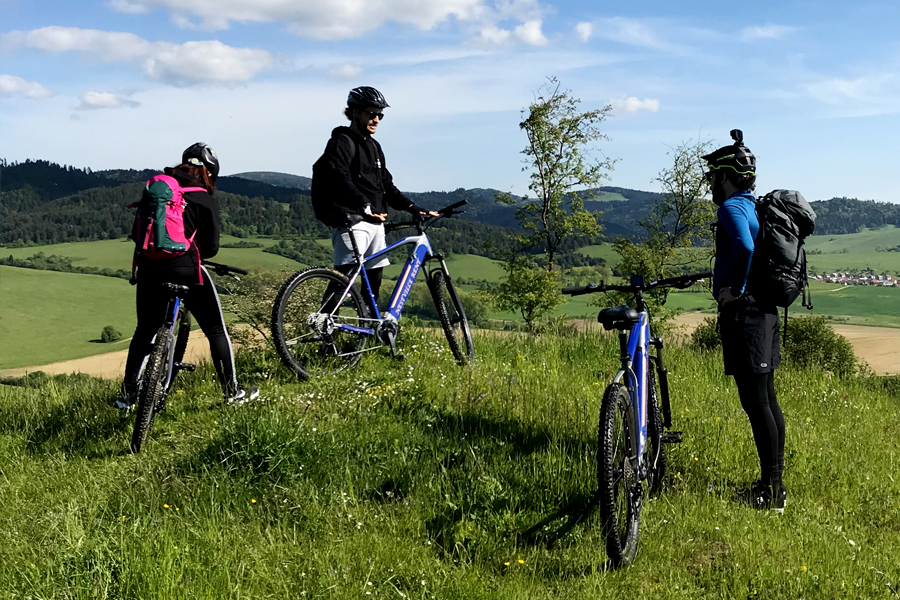 Rental office Nestville Rent offers modern electric bicycles & e-scooters during summer months. You can choose from several routes ranging in difficulty in the vicinity of Hviezdne & Stará Ľubovňa. During winter, it is transformed into an ice skate rental which you can use to rent ice-skates to play ice-hockey or to ride in our ice rink or track. Renting electric bicycles, scooters or ice skates can make family trip or teambuilding even more enjoyable and will be appreciated by every age category. Enjoy charming nature of northern Spiš and have fun in a sporty spirit thanks to our rental office Nestville Rent!
Experience the magic of ice skating under the clear sky on ice rink & unique ice track at Nestville Park whose godparents are – the best Slovak ice hockey goalkeeper Ján Lašák and lover of childern's audiences Miro Jaroš. Ice rink with an area of 450 square meters and 100 meters long ice track is open to the public during winter months from Monday to Sunday. For those ice-skaters who did not have time to buy skates, there is also a rental shop right next to the rink. Join the winter sports activies with the family at Nestville Park and enjoy time spent together on ice-skates.